You Can't Overstate the Importance of Exercise for Seniors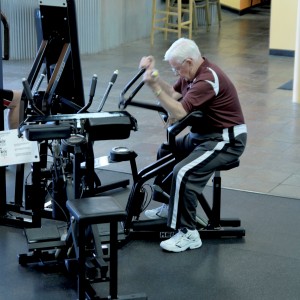 As we age, we place a high priority on remaining healthy and mobile, which are two of the most important factors in remaining independent. As your doctor has probably told you, exercising regularly is one of the best ways to ensure you are as healthy as possible. In fact exercise for seniors is just as important — or more important — than it is for young people. Of course, don't forget to check with your health care provider before you start. He or she will be able to advise you on any exercises you should skip due to your individual health concerns.
Miami Athletic Club offers programs specifically designed for seniors. They target strength, flexibility and endurance, because these are all important for active older adults. They are also designed to be gentle on your joints, and easy for those with limited mobility. Here's a quick look at what you can expect from our group exercise classes for seniors:
Aerobic Exercises For Endurance: Aerobic exercises get your heart rate up, and burn calories. This builds your heart and lungs. Most traditional aerobic exercises like running and jumping aren't a good choice for weak joints or brittle bones, though. Instead, exercise programs designed for seniors use low impact aerobics. These can include water aerobics in our warm water pool, exercise ball workouts and chair-based classes.
Resistance Exercises for Strengthening: While building strong muscles is key no matter your age, this doesn't mean that you have to load weight plates onto bars and do benchpresses. In fact, most of our seniors at Miami Athletic Club don't use the free weights at all. Instead, they use resistance bands and hand weights in group exercise classes, and use machines in the weight room. We even offer expert training on each machine if you have questions.
Stretching Exercises for Flexibility: Increased flexibility leads to a larger range of motion, which means you are less likely to be injured. This is important for all seniors, but especially important for active older adults or those who are at an increased risk for falling. Stretching for just a few minutes a day can greatly aid flexibility. It is usually included in all group exercise classes for seniors, but many people also enjoy attending yoga or tai chi classes that are designed for older adults.
By exercising regularly, you can build your flexibility, strength and endurance. This will help you to look and feel your best. For more information on programs focused on exercise for seniors in Cincinnati, contact us today.