Silver Sneakers and Silver & Fit Offer Gym Memberships for Eligible Older Adults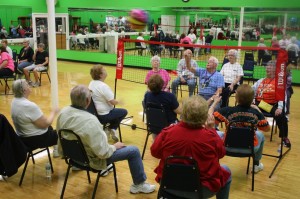 Regular exercise can make a huge difference in our quality of life as we age. Adults ages 65 and older need at least 150 minutes of aerobic exercise and at least two strength workouts every week, according to the Centers for Disease Control and Prevention guidelines. Luckily, many seniors can join the Miami Athletic Club free of charge. These memberships are paid through the Silver Sneakers and Silver & Fit senior programs, an added benefit of some Medicare supplement insurance plans.
We've found that many seniors have a SilverSneakers or Silver & Fit membership and don't even know it! If you are interested in participating in an exercise program designed specifically for older adults, it's worth looking into. We can help you get started by ensuring you exercise at an intensity appropriate for you, and helping you pick the best exercises for your ability and health conditions. We also offer senior group exercise classes and other programs designed specifically for older adults. MAC has personal training for seniors, health education, group fitness and specially trained Senior Advisors to help you get in better shape.
If you already have a SilverSneakers or Silver & Fit Membership, you're ready to get started. Simply bring it in, and we can get you started today. If not, come on by and we can tell you a little more about how the programs can help you. Just be sure to bring your health insurance ID card with you. We can check on your eligibility while you tour the facility and see all of the amenities we offer for our SilverSneakers members. Once we've verified that you qualify, the signup process will only take a few minutes.
If you are at high risk for heart disease, have preexisting medical conditions or have been sedentary for a long time, we may ask you to get clearance from your doctor before working out the first time. Once your doctor OKs you to workout, you are free to use any of the services we offer. This includes the cardio equipment, weight machines and free weights. If you're not ready for all of that, or if you want a more guided program, you can also take the senior fitness classes. Each of these classes are taught by trained instructors who can help you modify the workout to your own individual needs.
Check out our information page specifically for seniors today to find out if your plan offers a free health club membership through the program. If you still aren't sure or have any questions, feel free to contact us for more information. We will be glad to help you get started on the road to a healthier, stronger you.