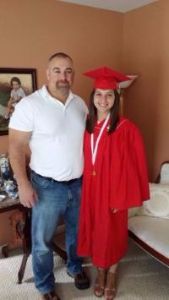 MAC Member Spotlight - David E.
MAC Member Spotlight – David E.
I have been a member since 1993. When I first started training at the MAC, I was about 155 pounds and just wanted to put on some muscle and size. Before too long, I was making great progress: adding good body weight and gaining strength. I mostly did Power and Olympic lifting with some bodybuilding to stay as proportionate as possible and to help prevent injury.
I have continued to train this way up until this spring. I realized that I am not getting any younger and have been blessed with no training injuries. So, I decided to change up my training and my diet. This past April I weighed 272 pounds. With cardio and clean eating, I am now weighing in at 238 pounds and plan on getting down to 230 pounds.
I have been a single parent of two awesome girls all these years and have still found a way to train 5 to 6 days a week. I train because it makes me feel good. I believe that if you feel good about yourself, it leads to a positive attitude and in return makes you more of a pleasant person to be around.
As for as the success part of my story I have been able to gain and lose weight when I have wanted for 23 years have never suffered an injury. I have been able to use the knowledge I gained along the way to help my children train through all their sports.