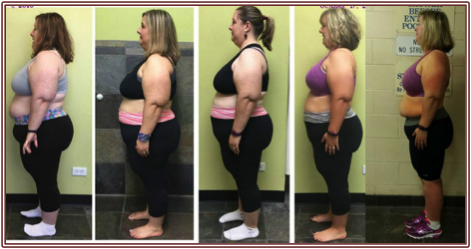 MAC Member Spotlight - Katherine Hattar
MAC Member Spotlight: Katherine Hattar
What led you to join MAC's Dangerous Curves Program? I saw a MAC Facebook post for the Dangerous Curves group training program. I knew I needed to make a life change and this class seemed to call to me. I messaged the trainer, Jen and she told me a little about the program. I tried to talk myself out of joining because I didn't think I could do it. I told my family about this opportunity, and they said DO IT!
What obstacles did you face participating in the Dangerous Curves program? How did you conquer them? My biggest obstacles are my family and myself. It is hard sometimes to juggle kids and what they want to eat as opposed to what I should be eating. It was a struggle for me not to stop at McDonalds a few nights a week just to get the kids fed. It helped that my husband stood by me and would cook meals that were healthy and we would eat together while the kids ate peanut butter sandwiches if they didn't want to eat with us. Another obstacle that I still struggle with is myself. I just have to get out of my head and say I am worth the time and effort. I am still not where I want to be, but I just have to keep reminding myself that I am a work in progress and I will get there!
What did you like most about DC? I love the other members and the community that I became a part of. I have made more lifelong friendships in this past year being at MAC and in the DC program than I have in the 10 years I have lived in Ohio.
Favorite Exercise: Any of them! Each of Jen's classes offer different exercises and I love conquering them all!
What did you like least about DC? I hate that it is only two months long, but I have learned to workout on my own too!
Favorite Meal: Turkey Burger, Onions, Taco Seasoning, Rice and Salsa
Anything else you would like to share about your journey? I owe my life to trainer Jen & MAC for offering this program. I was never able to go places and do things with my kids. Now they are tired before I am and that is an amazing feeling. If a woman is thinking about joining Dangerous Curves but nervous, what would you say to them? It is worth it! Even if you can't do all of the exercises right away, there is always an alternate exercise. No matter what fitness level you are, you can do it if you want it enough. It is not just a group you are joining; it is a community of supportive, like minded women that have families and careers that focus on lifting others up and helping them on their journey to fitness and health.
Personal Success Story: Over this past year I have lost 50 lbs. on the scale. But I have gained so much more. I have more confidence then I have ever had in my entire life. I am actually proud of myself. I never truly knew how strong I could be. I never looked at a nutrition label before, and now I am aware of what I should be eating. I enjoy going to the gym. I have made lasting friendships. I have people to hold me accountable to be the best me that I can be!
Words of Advice: JUST DO IT! Starting out is the hardest part. Once you get started you realize that you are so much stronger than you probably give yourself credit for. Trust the program and the trainer. They truly know what they are talking about and telling you. You are not going to die if you do one more sit up or push up, but you are going to be strong in the end. Like Jen says NO REGRETS!
MAC and Jen are so proud of Katherine and all that she has accomplished. While she is now much more healthy and very active, she has always been a bright, happy and positive person. Great work Katherine!