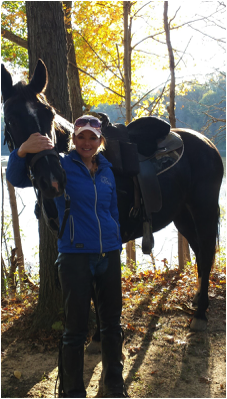 MAC Member Spotlight - Susan Anderson
Susan's Personal Success Story:
Susan started working out with her mother at the gym from a very young age. She was 15 years old when she started taking various classes at the YMCA in Lebanon OH. These classes include aerobics classes, weight classes, and yoga. Susan has always enjoyed working out and feels the need to work out to keep up her strength and fitness for Susan's longtime passion which is training and riding horses. Susan started riding horses at the age of four and has continued following her passion all of these years. Susan now train horses for a living and have been a licensed Thoroughbred Racehorse trainer for over 20 years.
What led Susan to join MAC?
Due to Susan's job being so demanding on her body and requiring such demanding physical work, Susan joined MAC over 15 years ago. Susan feels that by working out at MAC she can gain the strength in order to do her job and not get injured. She has been able to build a stronger core as well as cardio endurance that she needs day in and day out. Susan knows that many people in her field get hurt all the time, especially when it comes to back injuries. She know that if I keeps her core strong Susan has a better chance of staying injury free.
Susan consistently comes to MAC 2-3 days a week. She loves the Spinning, Boot Camp and Tabata classes. She feels that they really give her a great overall workout and she always feels great afterwards. Recently Susan got engaged and her fiancé joined MAC and they do classes together! Susan's mother is also a longtime member of over 20 years and she works out 5 days a week!
Susan's words of advice:
I believe that working out and eating healthy is a lifestyle. Once you get into a routine, if you eat right and exercise you will feel great and never want to live any other way!