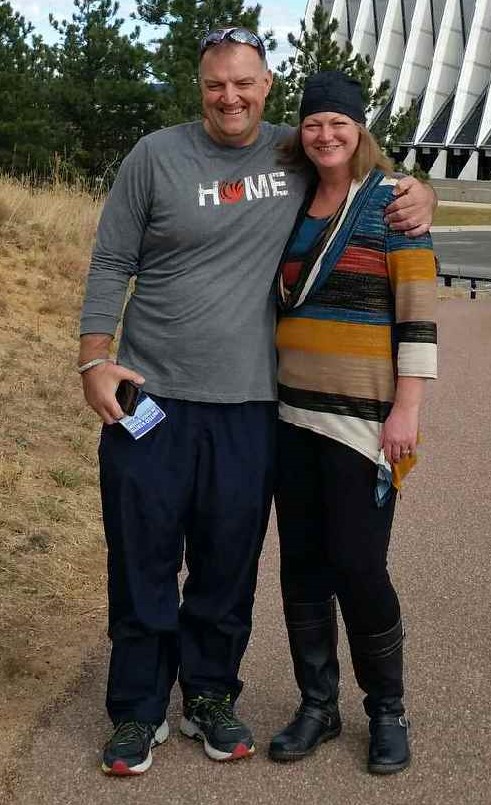 MAC Member Spotlight - Mark F.
Tell us a little bit about yourself:
I am 49 years old and I'm getting ready celebrating the Big 50 in October! My wife, Shelly, and I have been married for 28 years. We both grew up in Dayton and have lived in several states/countries since we were married. I work as a QA manager for Procter and Gamble in Mason. We have two grown children, Tyler (27) who lives in New York City and Mindy (24) who lives in Woodland Park, CO. I played football, baseball, and basketball in high school continuing baseball and football in college. After college, my personal fitness has been the proverbial roller coaster ride.
What led you to join MAC?
I tried a couple of different fitness centers when we moved to Milford in 2006 before discovering MAC. What led me to join is not nearly as important to me as what led to stay with MAC. For me, MAC is the ideal blend of people, facilities, and access. From a people perspective, the staff and instructors are excellent. While I tend to go it alone from a workout standpoint, several different staff/instructors have offered free advice and constant encouragement supporting my efforts. Other members, specifically the morning crew, offer constant encouragement and hold me accountable when I am not there. I cannot express how valuable both of these groups are to sustaining and improving my fitness.I love the facilities and access provided by 24 hour membership. MAC is very well equipped and maintained, offering a great variety of training options in an environment that lacks the pretense of other fitness centers where I have gone. MAC is long on substance with just the right amount of style for my taste.
Personal Success Story:
Because I have gained and lost somewhere in the neighborhood of 500-600 pounds since college, I am very apprehensive to declare success, but I do think I will sustain my fitness gains this time around. My most recent trip down the scale began April 21, 2015. I weighed 377 pounds and was really starting to be unable to do some of the most basic daily chores without extreme effort or difficulty. I ate a crappy diet, and a lot of it, and balanced that with almost zero daily activity other than work. My daughter, a nutritionist, made a clean eating plan for me, and she effectively partnered with my wife to provide the appropriate 'encouragement' for me to follow it. We also worked on short term exercise goals to get me moving again. Given my history in sports, this was a rather humbling experience but a very necessary one. Following the eating plan, and slowly but steadily increasing my activity level, I have been able to get my weight back down to about 245 pounds in about 18 months.
Words of advice:
I will never claim to have all the answers but here are some things that are critical for me:
Don't try to do too much all at once. The accumulative effect of small changes rigorously implemented will get sustainable long-term results.
You don't have to be perfect in nutrition or exercise but you can get continually better in both.
Be 'selfish' about your fitness schedule. Find a time and activity you enjoy and make it happen. At the end of the day, taking care of yourself may be one of the most 'selfless' acts you can do for your friends and family.
Pick other fitness indicators besides weight to track your progress. My weight can go up 6-8 pounds for no apparent reasonand it helps immensely to know my blood sugar, cholesterol, heart rate, etc. are all in great shape when this happens. It was a lot easier to think about losing 1-2 pounds per week than it was to think about losing 130 pounds.
Anything else you would like to share about your journey
Like so many things, I had to decide for myself to make a change before anybody or anything could help me. There are virtually unlimited people and resources waiting and willing to help, but it simply could not work until I made the decision to change. It is not easy, but anyone and everyone can do it.