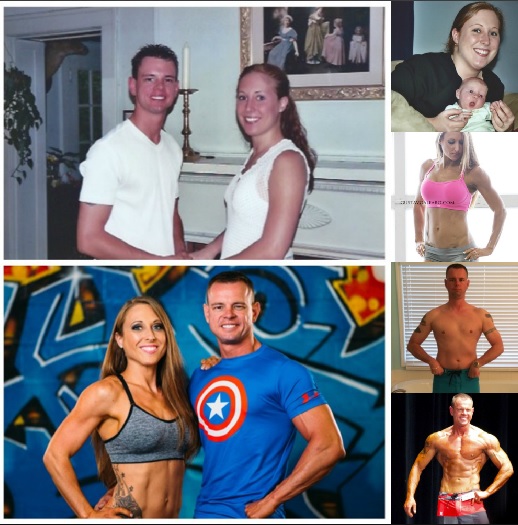 MAC Member Spotlight - Amy & Josh H.
Tell us a little about yourself:
Our names are Josh and Amy Holston. We have been married for 13 years and have three children: Josh Jr. 15, Lilly 13, and Lela 9, and one little one on the way due in December. Josh works as a Finance Manager with a local Ford dealership, and Amy is a SAHM/Online Personal Trainer and Nutrition Specialist.
What led you to join the MAC:
Josh and I have been members at a couple different local clubs and we were searching for something that was not only family-friendly with adequate equipment and space, but also a place with a positive atmosphere. When we're at the MAC we feel like we're training with friends.
Personal Success Story:
Through each of my pregnancies I gained 70lbs . This left the better part of my 20s spent trying to lose the pregnancy weight (each time!) and get back to that pre-baby body. I tried everything – every fad diet, every diet pill and even took up running. After I got out of the Air Force my favorite saying was "the only good time to run is when you're being chased," so for me to take up running to get my ideal physique was huge! I was running 5-6 miles a day and plateaued for over a year. Running 5-6 miles a day and not one single pound lost – there had to be a better way! I came across a figure competitor who was a normal mom just like me and she was getting fantastic results. My first thought: "that's what I want!" My second thought: "if she can do this, why can't I?" I enlisted the help of a coach and competed in my first bikini competition 6 months later. I was hooked!! After my first competition Josh decided that he was ready to jump on my gain-train ;) He hit the gym hard, followed his coach's meal plans and hit the stage one year later. We have now been competing together for 3 years, and Josh is planning to hit the stage once again this fall. I have now taken my passion for health and fitness and created an online training program where I help women across America lose fat the healthy and sustainable way.
Words of Advice:
You will NEVER outrun a bad diet! We really are what we eat.
Cardio is NOT the answer. Cardio is a tool to help weight loss, but if you're looking to optimize your overall body composition and gain lean sculpted muscles you really need to be on the gym floor lifting weight.
Don't be afraid to lift something heavier than your handbag!! Lifting doesn't make you bulky – cupcakes make you bulky ;)
You can't "tone" what you don't have – lift weights and build some muscle!
There is no supplement for a healthy diet and exercise. Supplements are just that – to supplement a healthy diet and exercise.
If you have questions – ask! For the most part, people are eager to share their success stories and give advice. If you see someone doing something that you want to do, don't be afraid to ask him or her about it; or ask him or her how they got to where they are.
Anything else you would like to share about your journey?
If you're reading this then you've already taken one of the most important steps in your own personal journey – you've decided to make a change and joined a gym. Now, outline your goals and create your how-to plan. Once you do that all that's left is implementation of your plan – put it into action! Remember, nothing works unless you do.