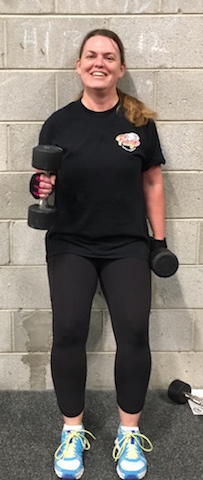 MAC Member Spotlight - Connie
My name is Connie Krebs. My husband, Shelby Krebs, and I have raised 4 amazing children. I have been a member at MAC for almost my entire adult life. Back in 2016 I was hit head on by another vehicle that had crossed into my lane and was blessed enough to find myself with the few injuries I had incurred. I suffered from whiplash, a torn SI joint (hip area) and some back pain. Nine months of physical therapy later I felt ok, but I found myself accepting that my physical abilities would never be where I wanted them, ever again. It was still a struggle to even put my own shoes on. I was taking water aerobic classes at MAC for mobility and then I began riding the bikes at MAC as well. However, I felt stuck and depressed because physical activity has always been an important part of my life. One day in January of 2017, I happened to be stretching in the small studio where I met MAC trainer, Carol Cron. She told me if I ever wanted to try and work out with her that she could work around those sensitive areas where I was injured.
I started working out with Carol as my personal trainer and then joined Carol's Small Group Training Class, Women On Weights. The ladies in Women On Weights and Carol have become my friends and my support. Currently I still do both 1 on 1 personal training and the small group training. I am at MAC at least 3 days a week. Carol finds ways for me to strengthen my entire body even with my limitations. The more I continue to push myself in the gym, the less physical limitations I have. I am finding myself doing activities again that I love like bike riding on the trail and paddle boarding with my family.
MAC Personal Trainer, Carol Cron has helped me see that my biggest mistake was allowing myself to ever believe that I couldn't make that physical change. My goal is to be as strong as possible – muscle, cardio and mind.
If you see me at MAC, I always have a smile on my face. Thankful for this awesome gym, the staff, and all the members! Remember: don't allow yourself to make the same mistake as me and believe that you can't. Because, you can!