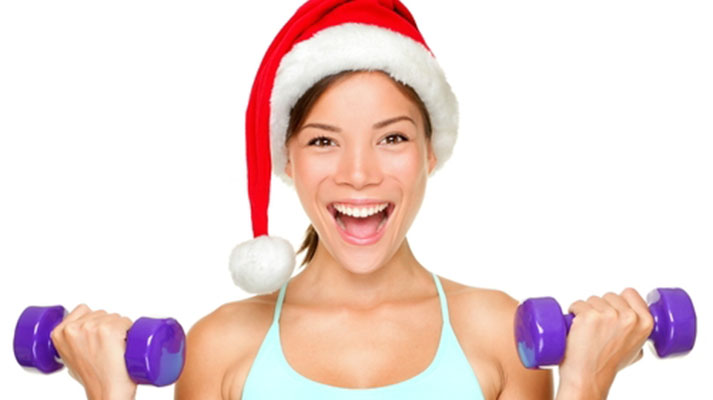 It's possible! 12 easy tips from the MAC pros to maintain your health goals during the holidays
Here we go. December is here, and as we head into the glorious gluttony that is ahead of us through the end of the year, we here at MAC want to give you a few things to keep in mind. Enjoy the deliciousness of the holidays while staying on track with your health goals with these 12 tips from the MAC personal trainers:
Choose "active" holiday festivities when planning out your month. Instead of a rich dinner at a restaurant, eat something light at home and walk around the Cincinnati Zoo's Festival of Lights. Instead of driving around the neighborhood to see Christmas lights, take a long walk to see them instead. When family comes to town, invite your sister-in-law to join you for yoga class instead of grabbing a cocktail at your local watering hole. Cincinnati offers many outdoor options for sharing time with family outside. Take a visit to the Cincinnati Nature Center, or introduce the kids to skiing at Perfect North Slopes. Visiting friends and family out of town? Explore their city by foot or bike instead of by car.

Drink Water! You may be eating more, or not eating as healthy, but help counteract by staying as hydrated as possible. Get your eight 8-oz glasses a day. The brain can confuse thirst with hunger, so be sure to drink at least a glass of water before and another during your meal to cut down on the amount of food you eat.

Schedule AM workouts on your calendar. Just as important as any party or shopping trip, schedule your workouts on the calendar, too. This time of year, things go off the rails with parties, events, and changes of plan. Make a plan to work out early in the day and fend off last minute changes as the day goes on. Can't make it to the gym due to snowfall? Think of it as an exercise opportunity as shoveling makes for an excellent workout challenge.

Don't bake goodies. Just don't do it and save yourself the temptation. If you still want to make homemade edible gifts, make spice mixes, homemade infused vanilla or hand-crafted salsa instead. Be the person that volunteers to bring the "healthy dish" to the potluck. Use applesauce for baking rather than oils. Reduce sugar by as much as 25% and use lower fat milk in recipes - both alterations won't have a big impact on taste. Baste your turkey with broth, sherry or white wine instead of butter.

Never say: "I've already blown it." Drank more spiked cider than you intended last night? Today is a new day and water is your friend. Started off the party hitting the cheese platter a little too hard? That doesn't mean you've blown it for the rest of the night. Take stock by keeping track, grab some water, and move your conversation over to the veggie tray. Missed your workout every day this week and it's already Friday? Doesn't mean you can't get one in Saturday and Sunday. Just because you didn't get it perfect, doesn't mean you need to slide down a slippery slope of more unhealthy choices. Stay mindful of what you are doing, what you are eating and you'll naturally counter-balance.

Get over the guilt of tossing out leftovers. No one wants to waste food, but if you have so much that you end up eating more than you should just so you don't have to throw it out, it's time to re-evaluate. Your health is more important than eating every last snowflake cookie before they go stale.

Set a challenge or 2. The month of December is a perfect time to challenge yourself to do something every day. Try the the 28-day Run-Yoga Meditation Challenge for a structured activity. Alternatively, give yourself this month to master one thing such as the 30-day Plank Challenge to gain superb core strength. Sign up for a race. In the next month, we've got Go Santa Go, the Arctic Dash, the Reindeer Romp, the Egg Nog Jog and several other races in the Cincinnati area. Sign up, recruit a friend and take on a different challenge.

Stop looking for a good parking spot. Have to go to Rookwood or Kenwood and dreading the endless creep around the lot trying to find a decent spot? Just don't. Get to the general area and park in the first spot you see. Walk the rest of the way. Plus, it gives you some key decompression time when you leave the store amid all the chaos.

Eat more smaller meals so you aren't starving for the "big" meal and eat slow. You probably know it takes 20 minutes for our brains to signal that we're full. Eat slowly and you'll consume fewer calories by the time your brain gets the message that the belly is satisfied. Also, smaller frequent meals boost metabolic activity, and make you less likely to pig out. Before a party, eat foods with a high water content - soups, fruits and veggies. These heavier foods may make you eat less than snacking on lightweight foods like rice cakes or popcorn, studies show.

Work out before you plan to eat big. Use holiday foods to recover from a hard workout. After intense exercise, your body is more sensitive to insulin, which helps transport sugars to depleted muscles. All those mashed potato carbs and sugars in pumpkin pie are great for glycogen replenishment. And the protein you'll get from that holiday turkey meal will help repair damaged tissue. Your metabolism is heightened after a hard effort, so you'll be more effective at burning those little indulgences.

Some holiday foods are actually awesome for you. Pumpkin is an excellent source of beta-carotene and iron. Cranberries provide compounds shown to be effective against cancer and heart disease, have ellagic acid which has been shown to help prevent tumor growth, and have powerful flavonoids that have been shown to prevent damage to blood vessel linings. Turkey provides B-vitamins, selenium and zinc, and darker meat contains 10% more iron than light. A sweet potato provides over 100% of our daily needs for beta-carotene, plus it has lots of vitamin C, vitamin E and iron.

Watch out for liquid calories. Not to ruin the fun, but cider, hot chocolate, and many alcoholic drinks pack in the calories without contributing to feeling full. Enjoy in moderation! Plus, it's too easy to rationalize other unhealthy choices after a couple glasses of wine.