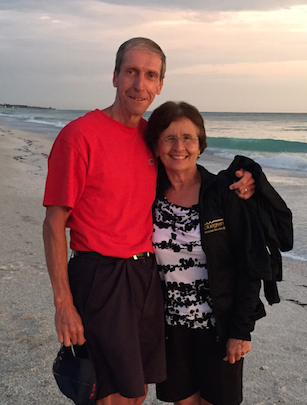 MAC Member Spotlight - Jim Frey
My wife (Jean) and I lived most of our lives in the Toledo, Ohio area. Upon retiring a couple years ago we moved to Cincinnati as all three of our children (and grandkids) luckily ended up settling in the same area. While still tough leaving friends and contacts in Toledo, we are glad we made the move.
My involvement with "fitness" started later in life. Jogging was the only real exercise I did most of my life … and even that was on and off. I developed lower back problems and finally had surgery about 25 years ago. Afterwards they told me I needed to "strengthen my core"; gave me a couple exercises to do; and sent me on my way. Started jogging again but gave that up also about 10 years ago as the nagging back problems returned.
I read an article which indicated you lose about a percent of muscle mass annually after age 35. So I joined a small gym in the Toledo area about 6 years ago and was surprised how little I could lift … not that I could ever lift much of anything! So before going the Silver Sneakers route, I thought I would try some of the other classes. They were tough but the instructors and classmates were very encouraging (as they are at the MAC!). Long story short … over the next couple years I got involved in many different type of classes … cardio; strength; ball; boot camp; tabata; spinning; etc. They also taught me the importance of stretching; posture; and flexibility … all of which I need to improve on. In the end … after knocking 20 lbs. off of me … I found out what "strengthening the core" really meant. So much so that whatever was causing my back problems was "strengthened" permitting me to run again. With the help and support of the group I was able to complete a few half marathons and a triathlon.
Finding the MAC has been a true blessing! The instructors and classmates are very supportive and make it fun! I need the structure and camaraderie of the class environment and strive to get "my money's worth" out of each class! I also greatly enjoy the wide variety of equipment the MAC has to offer for the off-class days. My fitness goals are relatively modest at this stage of the game … to stay functional and healthy!
We all know many things can and do go wrong with the human body that are out of our control. So we need to control the things we can … fitness level; nutrition; active and healthy life style … and let God handle the rest! I look forward to learning more from the staff and members at the MAC!