Member Spotlight: Nigel Sparks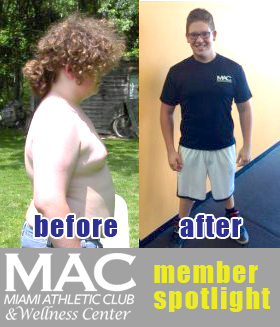 Nigel Sparks is a great example of how some dedication and hard work can accomplish your goals. At first, Nigel struggled with getting to the gym and making his way through his workout routines, but with the helpful encouragement of friends and family he powered through the initial discouragement of what he calls "slow progress." Using a personal trainer helped him hone his exercise to break through a plateau and now he says "the gym is like a second home and working out is my passion of fun."
The results? He's dropped nearly 100 pounds, created great exercise habits at a young age that can carry through his life and wants to help motivate others by sharing his success story with us! We're proud to announce Nigel as our latest MAC Member Spotlight and want to send out a huge congratulations to him! Way to go, man. Keep up that hard work, the results you've seen are fantastic. You can hear from Nigel below in our latest MAC Member Spotlight interview:
Tell us a little about yourself
I am 19 years old and I have been working out for 3 years now. I live in Milford and I like playing pool and lifting weights. I am a pretty goofy guy when you get to know me. You may see me dancing around in between sets when I work out because it keeps me motivated.
What led you to join MAC?
I joined the MAC so that I could work out with my little brother. I love the environment at the MAC so much. I was really heavy for a very long time and I wanted to find a gym that had everything and that was MAC. On top of that it's close to my house and I can always get my workout in.
Tell us the story of your personal fitness success
When I was a junior in high school, I weighed about 320 pounds. One day I was sitting in math class with my friend and he said something I needed to hear. He said, "I have known you for a while and we have always been good friends, but I am worried about how much weight you have put on." He went on to tell me I could get a free week pass at his gym and he would help me with working out. At first it was a struggle but I began to go every week. I slowly started losing weight but the slow process can be discouraging. I reached a plateau and couldn't get past 280 pounds but my friend kept me going. My cousin Eli, a personal trainer, was also there with advice and kept me on track. I kept at it for three years and now I only weigh 225 pounds. I have lost almost 100 pounds. Now the gym feels like a second home and working out is my passion of fun.
What advice would you give to someone who is beginning their exercise program?
No matter where you are in your journey, keep at it and never stop working out. It takes time and a lot of effort to reach your goals, but when you finally reach them, all the years of work you put in to yourself will all have been worth it. A quote that always keeps me going is, "If you only work out when you feel like it, you will only go a few times per year." – from my cousin Eli.
If you're interested in getting in shape, feel free to contact us or sign up for a free 7 day gym trial on our homepage. If you have a success story you'd like to share, or to nominate someone else as a MAC Member Spotlight, email Erinn Whitehead at erinnwhitehead@zoomtown.com