Member Spotlight: John Hall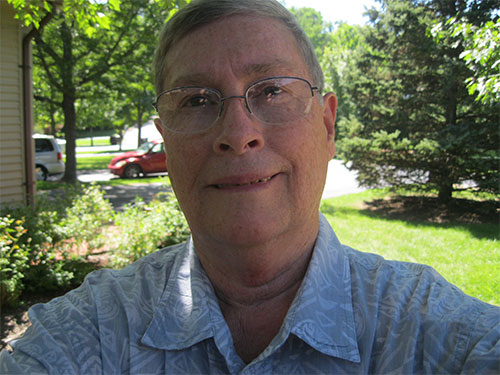 Retired from YUM! Brands, the parent company of KFC, Taco Bell and Pizza Hut, after 25 years as a Facility Manager, John joined MAC to strengthen his body and lose weight – he is down 16 pounds after one year and so MAC trainer, Tom, could help him after cancer surgery. John is a breast cancer survivor! Less than 1% of men get breast cancer each year. This sounds like a small amount but looking at these facts in another way, around 400 men die each year from breast cancer.
Per John: I work with the American Cancer Society to build awareness of this disease in men. It is important that both men and women inspect their breasts at least once a month. Check for redness, discharge, lumps, inverted nipples or soreness. Have your doctor examine the chest area during your annual physical. Breast cancer in men will usually show itself in some way. I had a small amount of discharge from my nipples. One or two spots would show up on my t-shirt during the night. I went to my regular doctor who sent me for a mammogram and ultrasound. Yes, men can have a mammogram! Don't be embarrassed or question your masculinity. This is an important health issue for men. I had a biopsy, which showed that I had Stage 1 ductal carcinoma. At age 70, I then had a double mastectomy. Since this was identified and removed at an early stage, I did not need to have radiation or chemotherapy. Now two years later I am in good health. My breasts have recovered. No ugly scares. My chest is a little more flat now but I am not embarrassed to take my shirt off on the beach or in the swimming pool. My daughter said if you lose your nipples, they can be tattooed back on, but I did not need this. Now I take medicine that stops the potential spread of cancer and I visit my Oncologist every six months for a checkup. I have celebrated two more birthdays because I took action.
My advice: Be aware, do self-exams and talk to your friends and relatives about this potential deadly disease that can occur in men at any age. I strongly recommend you attend the American Cancer Society "Relay for Life" held in your area each year. This fundraiser celebrates cancer survivors, caregivers and they have a touching tribute for those that have died from all types of cancer.
Personal Success story: My wife and I adopted two Native American children in the late 1980's and we now have two wonderful grandchildren.
Words of advice: Be aware that men can get breast cancer!
Life has been good to me. See you at the MAC! Be well - John Hall