Member Spotlight: Gaffney Family
Tell us a little bit about yourself:
Jayne - I am 53, married to Tim and have three wonderful adult children. I work in an office environment, so getting exercise is important.
Kelsey - I am 24 and ran cross-country and track in college. I love soccer and have been active all my life.
What led you to join MAC?
Jayne - Working out was not something people did when I was in high school and college. When the kids were in grade school I worked out at home, but missed the group setting of a gym, and joined MAC in 2001. At that time I went to classes in the evening. Once the kids were all in high school I was able to start going in the morning and have been showing up at 5AM Monday thru Friday ever since. The main thing I love about MAC is it offers a wide variety of work out options. I go to group workout classes some days, lift with my daughter, Kelsey, on others and run with my MAC friends.
Kelsey - I wanted to put on muscle because I have been running all my life. I joined MAC in 2014. I was concerned that I would not fit in because there were not a lot of younger people at the gym, at least in the early morning but I found that the MAC has everything I need to accomplish my goals. I have made good friends here with whom I work out. My mom makes sure I don't skip out and we get to spend time together doing something that is fun and good for us.
Personal Success Story:
Jayne - I started running with a group from MAC in the mornings a few years ago. When I ran my first 5k in 2011 my time was 29.02, in a recent 5k my time was 25.00. A group of us from MAC ran the Flying Pig Marathon relay; something I never thought I would do. I also started lifting weights a year or so ago.
Kelsey - I used to be "skinny fat", and now I am not! (See my abs picture below)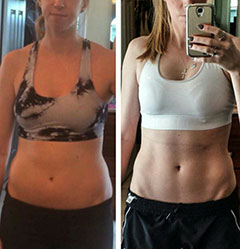 Words of advice:
Jayne - Working out is a great way to start your day, you will never regret doing something good for yourself. MAC members are encouraging and inviting and the staff is helpful and friendly. Once you start working out, it becomes a part of your routine and something you want to do. It is a great addiction!
Anything else you would like to share about your journey?
Jayne - Exercise and MAC have become an integral part of my life. I have great friends that I see every morning. They help keep me motivated and focused, and I continue to see my evening gym friends at MAC classes on the weekends.