MAC Member Spotlight: Barb and Tom Brown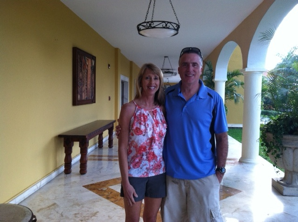 We have been married for almost twenty-eight years. We have two children, Abby and Curt, who are in college. We have lived in Milford since we have been married (Tom grew up in Milford).
We joined MAC when we were first married and it was Royal Fitness across the street. Then we won a free membership to another gym for two years. And we tried another gym for one year since it had an indoor tennis league for Tom. After both trying other gyms, we decided to go back to MAC and have been loyal members ever since. Twenty-four years later, we're both still happy with our decision!
We feel like MAC is our second home and love working out here. Tom has made a wonderful group of friends that meet to run before the 5:30am classes. Barb prefers the 8:30 and 9:30am classes. We don't mind working out on our own, but the classes are what really motivate us. The instructors are top-notch, friendly, and really encourage us to work hard. The camaraderie of our gym friends really keep us coming back. They know when we are not there, that we are either on vacation or sick (or Tom has chosen to sleep in!).
We have only positive things to say about Miami Athletic Club. We feel very blessed to have found such a supportive place that keeps us healthy – both mentally and physically! Give it time and you will feel the same way!