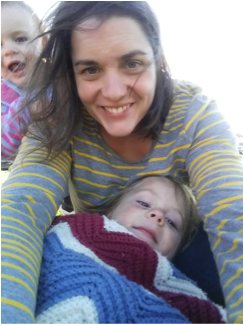 MAC Member Spotlight - Nicole House
Tell us a little bit about yourself: I'm a stroke survivor, new small business owner, and mom to three young busy girls. My formal training is as a fine dining chef but now my passion is for well-crafted, healthy unprocessed food. My husband and I moved to Milford from Louisville almost seven years ago and have really come to love the area. Last year we started a mobile bbq/catering business call Pickles and Bones Barbecue that feature all-wood smoked meats and sides. We reopen in mid May on St. Rt. 131 near Wolfpen. I rely heavily on the MAC to keep me energized, keep stress as low as I can, and to do something positive for myself every day.
What led you to join MAC? I joined the MAC after three pregnancies and a knee surgery left me looking for low impact options to exercise and lose weight. I was 50 pounds heavier than I wanted to be. Kids Korner and the pool are additional amenities that sealed the deal for me. There are so many options and I know my girls are being well cared for and having fun while at MAC.
Personal Success Story: Although I faithfully carried my membership card on my key ring I always had an excuse not to exercise until December 26, 2014. That day I found myself admitted to the cardiac floor of Bethesda North for what turned out to be an ischemic stroke that affected my left side. During my stay I was also diagnosed with two heart conditions: PFO and ASA. I left the hospital very scared, confused, but determined to make a change. It was time to show up, take control, making stroke risk management and my own needs my top priority. Last year I lost forty pounds and gained a whole lot of energy, self-confidence and seriously reduced my stress level. I'm in better shape now, physically and mentally, than I have been in 25 years. I've learned that my wellbeing is paramount and directly relates to all other aspects of my life. I've learned to put myself first more often and that it benefits my family too. I started with the elliptical for weeks and one night snuck into the back of the Zumba class. I felt like a complete fool, but I had a huge smile and discovered how fun exercise can be. From Zumba, I went to Maggie's morning classes, Tabata and circuit training, and now spinning once a week. I love the group atmosphere - the faces become familiar. I've made a few friends, and it's great to see others succeed and share my own success. I have another knee surgery but instead of gaining more weight this time I have the MAC to help with my rehabilitation. My focus for a while will be on regaining mobility, then adding weights and low impact cardio. I'm very excited to have the pool to help keep my fitness goals on track during my recovery.
Words of advice: It's not uncommon to take two steps forward and one step back in a fitness journey. Just keep moving. Also, exercise because you are worth the effort and, not because you spite your body -and drink more water!
Great Work Nicole! Keep it up. You are an inspiration for us all to prioritize and take control of our personal health and well being! Success to you always!
Nicole Before: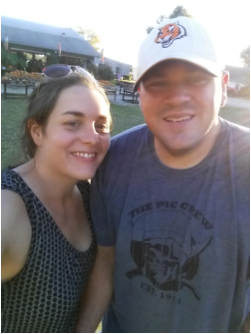 Nicole After: