Great Parks in Cincinnati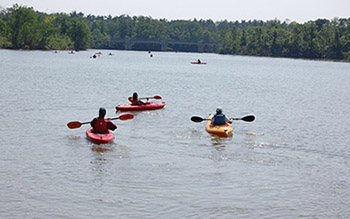 There are plenty of gyms in Cincinnati, including our very own gym in Milford, but sometimes hitting the gym just doesn't hit the spot. Getting out in the fresh air and taking in some of the great outdoors can be a huge shot in the arm for your fitness motivation. Cincinnati has a ton of great outdoor spaces where you can stretch your legs and get some exercise outside!
Most everyone knows about the public parks around that are great for a leisurely stroll, but did you know the Great Parks of Hamilton County offer a wide variety of sports and exercise opportunities? The Great Parks are a network of recreational areas spread across the city, with an easy one-pass-fits-all system letting you hit up a great park in any part of town for just $10 a year. We thought we'd give you a run down of each park and some of the things they offer, in case you're itching for a new place to explore this summer. Visit the Great Parks website for more info on each park and their amenities!
Campbell Lakes Preserve
boating & fishing
A collection of four lakes on Campbell Road in Harrison, the Campbell Lakes Preserve is great place to relax with a fishing pole and enjoy the serene waters. Motors are not permitted, so the atmosphere is nice and calm. You'll find canoes, kayaks and jon boats out and about, on the search for bass and northern pike to catch and release, as well as bluegill and crappie limited to 10 per day.
Embshoff Woods
playground, Parcour, disc golf
333 acres make up Embshoff woods, which features a nice playground for the kids and picnic areas that can be reserved for larger parties and gatherings. The unique thing about this park is the 1 mile Parcour fitness trail through the woods, with plenty of obstacles for honing core skills. Disc golf might not be the first thing you think of when it comes to exercise, but it can be a fun way to take a stroll, and the 9 hole course at Embshoff is sure to entertain. They also offer winter sports later in the year. Located on Paul Road near River Road/Route 50.
Farbach-Werner Nature Preserve
walking path, butterfly and wildflower garden, nature programs
Even as one of the smaller parks at just 22 acres, Farbach-Werner Nature Preserve still offers some interesting options for the outdoor enthusiast. The Pin Oak Trail is short, just over half a mile, but features a butterfly and wildflower garden that's worth taking your time to see. They also have a 2 story barn that holds nature programs, special events and exhibits, as well as a gift shop. This park is a good option for families who want to stop to smell the wildflowers for a moment. Just off Colerain Avenue on Poole Road.
Fernbank Park
paved trail, nature trail, biking, fishing
The Ohio River is one of Cincinnati's best natural features and Fernbank is the place to be for a new look at the Ohio. Featuring a 1.2 mile paved trail and 1 mile Sycamore nature trail, you've got the opportunity to take the path less taken. It's a good place for riding bikes, picnicking, fishing and walking. Located off of River Road/Route 50
Francis RecreAcres
athletic fields, league play, highly accessible playground
If sports are more your speed, check out Francis RecreAcres. Soccer fields and volleyball courts are a main draw, with leasing available and league play. There is also a mile long paved trail and universally accessible playground with large ramps, rubber safety surface and physical fitness elements. Four our members with children suffering from disabilities, this park is great! In the 26 acre park there is even a snack bar, which admittedly isn't fitness oriented. But, hey, sometimes you want a little snack after the big game, we get it!
Glenwood Gardens
nature trails, paved trails, kids' discovery garden
Tucked away off Route 4, Glenwood Gardens is a 335 acre park know for it's beautiful landscaping and nature trails. From the paved trails of the formal gardens to prairies, forests and wetlands, there is a lot to see. Kids will love the Discovery Garden with a 25 foot tall discovery tree, butterfly garden and more. If you're looking to get a taste of the outdoors, both wild and tamed, you ought to make a visit.
Lake Isabella
fishing, boating, playground
Another great spot for the fishermen, Isabella boasts a 28 acre pay lake, stocked weekly through October. Their full service boathouse has what you need, including rental boats, but no canoes or kayaks are permitted here. Of course picnic areas, shelters and a playground are highlights as well. You'll find Lake Isabella on Loveland-Maderia Road, off 275.
Little Miami Golf Center
golf, biking, lawn bowling, paved trail, nature trail access
As the name implies, Little Miami Golf Center is a great place to drive some balls. With a 9 hole 35 par regulation course and a 9 hole par 3 course you can test your skills, or take the kids for 18 holes of mini golf. They also have boating, bike trails and lawn bowling at this park, nested between picnic areas. Connections to the Little Miami Scenic Trail are located at Little Miami Golf Center, Bass Island and the Avoca trailhead add another reason to check out this Great Park.
Miami Whitewater Forest
golf, disc golf, horseback riding, fishing, biking, athletic fields, league play, dog park
4,345 acres. Yup, you read that right. Over 4 thousand acres! You'll find more golf here, as well as disc golf, horse riding, fishing, bike trails, athletic fields and picnic areas. The Shaker Trace trail offers 7.8 miles of paved walkways, while multiple other trails of distances from less than half a mile up to nearly 2 give you a variety of scenery. Another unique feature of Miami Whitewater Forest is the Soccer Complex with men's, women's and co-rec leagues. Plus, new in 2014 is the Simmonds Family Dog Park, the biggest in Cincinnati! 11 acres for your pooch to prance, jump, climb and work on their agility.
Mitchell Memorial Forest
mountain biking, nature trail, fishing
Another of the larger parks, checking in at 1,429 acres, Mitchell Memorial Forest has 8 miles of challenging mountain bike trails! The park also features a 1 mile nature trail and catch and release fishing pond.
Otto Armleder Memorial Park and Recreation Complex
dog park, paved trail, athletic fields, river access
Offering something for everyone in its 305 acres, Otto Armleder includes a 10-acre dog park, a paved trail that connects to the Lunken Airfield loop, playgrounds, soccer fields and canoe access to the Little Miami River.
Sharon Woods
paved trail, Parcour, nature trail, kids' adventure station, golf, boating
Sharon Woods is a popular park in Cincinnati, with good reason. They have a two story Adventure Station for kids, 2.6 mile paved trail, 1 mile Parcour trail and a nature trail just under a mile in length. Picnic areas are open for reservations for groups, the park has a golf course and offers boating on the lake.
Shawnee Lookout
historic Native American site, nature trails, river access
If you're a fan of history and you haven't made it to Shawnee Lookout yet, you need to go! This park is well known for the historical Springhouse School, Log Cabin and Native American archaeological earthworks. As far as exercise goes, they have several nature trails ranging from 1.3 to 2 miles in length with awesome views of the Ohio River. Picnic areas and access to the Great Miami River are a few more reasons to check out Shawnee Lookout.
Triple Creek
softball, league play, Parcour, playground, fishing
Athletics are the name of the game at Triple Creek, with four nice softball fields for men's, women's and co-rec league play. A small, 0.8 mile Parcour trail, playground and snack bar are great features too, and they even have a fishing pond where fish can be kept.
Winton Woods
golf, disc golf, athletic fields, horseback riding, paddle boat rental, boating
Winton Woods has pretty much everything you or the family would want in a park. Athletic fields of all sorts are sprinkled throughout, a golf course and disc golf course offer great drives and scenic views, horseback riding is available, paddle boats can be rented on the lake and several trails weave in and out of this 2,555 acre park. You could spend a day here, like many of the others listed, jumping from activity to activity.
Woodland Mound
camping, golf, disc golf, biking, boating, kids wetland adventure water park, Parcour, nature trail
If you can't get your fill of the outdoors in a day, consider Woodland Mound where you can camp! Another fully featured park, you can golf, disc golf, boat, bike and picnic! Great views of the Ohio River can be found here as well as a Wetland Adventure water playground for kids. Trails include a mile long Parcour trail as well as a half mile and one mile nature trail.
As you can tell, there are plenty of ways to get outside and stay active this summer! Of course these parks aren't open 24 hours a day, like our gym, but then again you can't kayak in our pool, either! Finding a good balance between outdoor and gym exercise can keep things fresh and interesting. A major battle is forcing boredom and monotony out of your routine so you actually feel like staying in shape. If variety is your style, contact us or check out our group fitness classes. MAC offers a wide variety of state of the art equipment and classes to help find that perfect balance.