Fitness Tips for a Healthy, Summer Body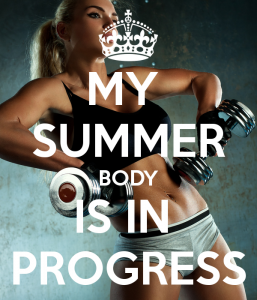 Summer might have snuck up on you, but fortunately there is still enough time for you to have the physique you want and be the healthiest that you can be. Here are some fitness tips to help you achieve your goals for the healthiest and fittest summer body.
Eat Clean: Eating clean will aid in burning unhealthy fat and help you build muscle. Clean foods to add to your daily diet include quality proteins, such as chicken, eye of round steak, salmon and tilapia. Also, incorporate complex carbs, fresh fruits and vegetables, such as whole grain breads, brown rice, bananas, broccoli, cauliflower, oranges, spinach, strawberries and watermelon.
Stay Hydrated: To stay hydrated forgo all sodas and sugary drinks, including most "sports" drinks. Since your body is made up of roughly 75% water, you should opt for at least six to eight, eight ounce cups of purified water a day to avoid fatigue, to lubricate joints, aid weight loss and to keep your muscles defined.
Take Progress Photos: The last thing anyone wants to do is to take pictures of themselves when they are at their worst, but sometimes taking pictures when we are at our worst can prompt us to change so we are at our best. Once you establish a workout plan and diet plan, take photos of yourself at week 1, week 6, week 12, etc. to see your results. By doing this you will see your progress and it can motivate you to stay on your quest to get fit and maintain or exceed your fitness level. It doesn't have to be a skimpy picture of you in a swim suit, necessarily. Although those are going to make a direct comparison easier, it can be intimidating. Consider going back through your Facebook or Instagram and grabbing photos to compare with you today, and in the future. The important part is showing yourself that you're making progress.
For more tips on how to get and maintain your summer body, feel free to contact us.