MAC Member Spotlight - Logan Holmes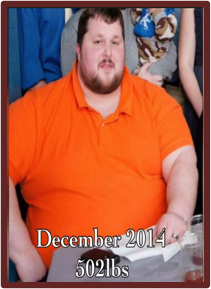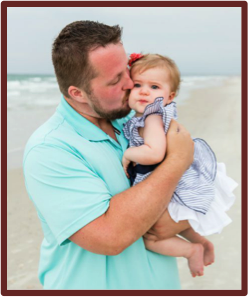 Tell us a little bit about yourself: I am 32 years old. I am originally from Tennessee. In 2012, I graduated from West Texas A&M with a M.S in Meat Science. With that degree, I have worked in food manufacturing facilities where there was always good tasting food available. I am currently working in R&D at AdvancePierre Foods in West Chester. My hobbies include hunting, fishing, and now my love for the gym and a healthier lifestyle. I am a devoted family man with a wonderful, loving wife and an 8.5 month old little girl.
What led you to join MAC? In November 2015, I was in the process of transferring jobs from Enid, OK to the Cincinnati area. The first thing I did was look for local gyms close to where I was living or working. I visited a couple of gyms and really liked what MAC had to offer. Dylan and Hannah were both very welcoming and took the time to show me around and answer any questions I had.
Personal Success Story: I made a lot of excuses for years. In Jan 2015, I weighed 502lbs which was at my heaviest. It weighed me down physically & emotionally. I started having issues with my feet & ankles swelling from water retention and I was not sleeping well, I had a hard time finding clothes and could never get comfortable. I was always tired from not sleeping well and from carrying around that excess weight. I knew I needed to make a change and I vowed to do so. I began eating healthier, doing cardio and weight lifting and I began seeing weight come off. I was working 10 -12 hour days and had a baby on the way. I gave up 2 hours a day from whatever I was doing which was more likely sitting on the couch in front of the TV and got my butt in the gym. It was hard for me to spend those 2 hours a day in the gym due to not being able to spend time with my family. But in the long run those 2 hours have added years back to my life that I took from myself by being lazy. My wife has been an amazing support system and has encouraged me every step of the way.
Setting goals was easy. Accomplishing them was a whole other ball game. I worked hard week in & week out, I failed occasionally but I kept pushing. I wanted to set the example as a healthy role model for my family. So from January to the beginning of June I was steady at losing weight. Towards the middle of June I hit a plateau that I could not break. I was talking with a buddy of mine at work about it and he mentioned Lukas who he was training with at that time, who is now my personal trainer. People used to ask what am I doing to lose weight and I would tell them I'm on a strict diet & training program. Now people ask me what diet am I following and I tell them I'm not on a diet, I am eating according to my goals. So as of June 2016 I weigh 243lbs. I have completely changed my lifestyle to commit to a healthy longer life for my family. I see food as a means of energy or fuel, not for a means of any type of emotional relief or just to eat because I am bored.
Words of Advice: Being fit and healthy is not a quick fix, it's a lifetime commitment. You will fail but you have to get back up and keep pushing. Have that occasional cheat meal to keep your sanity. One of the most important parts to my success is weekly meal prep.