Group Fitness Classes Drive and Inspire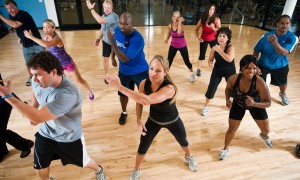 Scenario: You know you need to work out. Maybe you're just getting into it, or you've fallen out of a standard routine. You want to change up your routine, keep it fun and interesting and workout some new muscle groups, but you don't know quite where to start. The quick and easy answer is group fitness classes!
Group fitness classes typically involve a group of people working out together with an instructor. The advantages are worth finding room in your schedule to try out a new class.
Benefits of Group Fitness Classes:
Safe and effective–The guesswork is gone. Each workout is designed for you with maximum effectiveness and safety in mind by a professional who knows the ins and outs of the class. You don't have to worry what will work, come up with your own routine, decide how long or how hard a workout needs to be. Our skilled instructors will take care of that! All you do is show up ready to throw some energy into the room and an attentive eye to follow along.
Consistent schedule–You can plan your routines and give them the priority you do to other appointments. In this way, you can have a well-rounded approach to your fitness goals. Hitting the gym is just as important as going for your check-up at the doctor (even more so, because it can prevent many reasons you'd need to see the doctor in the first place). Pick a class or two and treat them like you would a doctor's appointment: you can't just skip an appointment, it's bad for your health!
An accountability factor–Knowing that your instructor and classmates will notice your absence increases the likelihood that you will attend. Not to mention that paying for a gym membership makes you want to get the most for your money. It seems like crazy logic, but it's true for a lot of us: we're not all that great at keeping up with things when no one is watching but us. It's easy to let yourself slip a little here and there, but when you've got a friend meeting you at class you're more likely to go. It's not all negative reinforcement, though!
Motivation–You put forth more effort when you know people are watching, like I said, but it's not just because you're afraid of being called for missing an exercise class. It's about having people around who are in this together. We can meet up, go through some classes and see the benefits of getting fit in ourselves and our class mates. The music and group setting pushes you harder than you would do in the four walls of your living room, too. It's hard to ignore the energy level and spirit of a great group fitness class.
Support–Surrounding yourself with people who are focused on fitness is a great support for your own fitness goals. You'll find yourself trading ideas on good stretches and tasty recipes. Swapping a few 'war stories' about weight loss and exercise can be such a great way to learn quickly, get tips for your own fitness and maybe even have a good laugh.
Diversity–Group classes are always changing, so you never get bored! The music and routines vary everyday, so you can stay involved and interested. There are many different instructors and you will find those you mesh well with. Miami Athletic Club is currently offering several different exercise classes to choose from. Try getting bored of that, it's pretty hard. We have classes every day of the week, so it's easy to pick a diverse schedule that matches your workout plans.
Challenge all levels–Classes for beginners up to advanced will meet your needs as you get progressively fit. From seniors to teens, we can push you to perform better no matter your fitness level. You don't have to worry about taking a class for so long that you've memorized the routine and feel like you ought to just teach it yourself, because there's always a new class to take on when you're ready for the next level.
Social and Fun Environment--In group classes you will meet new people and have a good time. Who doesn't want some extra fun in their life?
There are group fitness options available for everyone's preference at our Milford gym! Dance, aerobic-style classes like Zumba and Extreme Step are more traditional, but other cardio classes such as Spinning, Boot Camp, and Cardio Challenge may be more your style. Miami Athletic Club also offers group strength training classes such as Cardio Resistance, Muscle Playground, and Lift Weights to Lose Weight. Core strengthening classes like Awesome Abs, Core Performance, and Yogaflex will round out your weekly routines. The list goes on and on and we add new classes as our trainers develop new and interesting ideas. If you want to overcome boredom with your workout or push yourself to new heights, contact us. Our friendly and experienced instructors can help you determine which classes will help you reach your fitness goals.