Benefits of Going to the Gym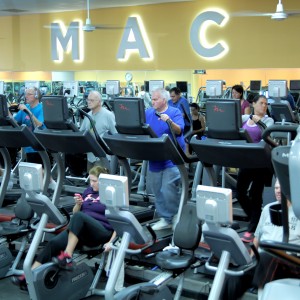 Maybe you need to lose a few pounds? You might need to lose a lot of weight, even. Maybe you just want to be more fit and able to get out and be more active. However, the thought of going to the gym is daunting. Trying out a new gym, even if you're used to going to a gym, can be a drag. People often fall out of their good exercise habits when they move or leave their current gym. I've always thought part of that was just "gym fatigue," it's easy to just think it'll be a hassle – so why bother today? Maybe tomorrow, right..? But even if you really dread the gym, there are a lot of reasons to get off of your behind and join. It's easy to look past the basics of staying fit, and how a gym can help you look and feel better. So here's a quick refresher!
Variety is good for your workouts. Gyms offer so many different ways to get fit. Besides the equipment, there are lots of exercise classes in different fitness genres. You can try yoga, kickboxing, or dance your way to fitness with Zumba. With so much variety, it is harder to find yourself bored. And when you hit a plateau, you can jump into new classes at a variety of difficulty levels to reach the next level.
Gym Child Care. We have in gym childcare where you can work out and not worry about your children. Some even have special classes that your children might be interested in, allowing all of you to exercise.
There are not as many distractions at home when you are trying to exercise. There are so many distractions at home: your children, the television, the phone. You can leave all of that at home and really concentrate when you are exercising at a gym. Our gym is bright, welcoming and stimulating, so you won't mind hanging out and getting some reps in, but you won't be tempted to sit down on the couch.
You can make new friends who enjoy exercising (and even some who don't). We're all in this together, so hitting the gym can be a great way to strike up a conversation. MAC is proud to say that we have a community feel here. You can meet people who are trying to get fit like you are. Instead of drinks, you might find that you want to meet them for a healthy snack or lunch. They can help broaden your horizon with some suggestions on their favorite classes. But the club is big enough that lone wolves can come in and knock out a quick workout, too. Even if you're not into group exercise, our personal trainers and wide variety of equipment can keep you busy and dodge gym boredom.
Gyms often offer professionals to help you. Whether you just need help with a machine or want a personal trainer to guide your fitness efforts, we have someone to help. They will help you reach your goals faster, and can coach you through the difficult parts of exercising like proper technique, motivation and planning a consistent fitness regiment.
It's just a fact: getting to the gym can be hard sometimes. Exercising is not always fun, we've all been there. Hopefully this recap points out some of the often overlooked benefits of a gym. Head on back, you might discover some new reasons to work out. You may find yourself with some new health conscious friends. Maybe you will find a new form of exercise that you just LOVE. Maybe you might just need the distraction free area to get a good work out. Whatever you thought, contact us today to sign up!