Workout tips: Using an app to track your results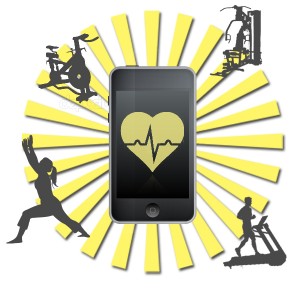 In a world that's booming with technology, when it comes to fitness, we no longer have many of the questions about what works and what doesn't work. There are so many apps available that can help both men and women stay on track, giving them the tools they need to lose weight and keep it off. For today's workout tips, we'd like to review a few of our favorites.
LoseIt!
The LoseIt! app has become a popular app with many of our members because it's really easy to use, and they've gotten great results with it. In just a few minutes, you can be up and running with a weight loss plan. LoseIt! requires that you input certain data to get started, such as your age, current weight, and your weight loss goals. Once you have all of your data in place, the app goes to work for you, giving you an idea of how many calories you need to eat during the course of each day to lose weight. It's important to remember to record your weight as often as possible, because the system will adjust your calories based on what you weigh.
MyFitnessPal
MyFitnessPal works a lot like LoseIt!, however it also includes a tool for keeping track of how much water you drink each day. Fitness experts agree that the "standard" amount of 64 ounces (or 8-8 ounce glasses) of water generally isn't enough water for the average person. In order to find out the amount of water that works for you, simply divide your weight by 2. Water helps to eliminate many of the toxins in your body, which can both aid in weight loss and help you feel better each day. You'll have more energy, and your weight will drop more quickly too.
MapMyFitness
If you're the kind of person who enjoys getting outside for exercise, you're probably getting in as much outdoor activity as you can even though the weather has been rough recently in Cincinnati. MapMyFitness is a great tool for you because it uses the GPS capability on your smartphone to track the exact number of miles you're walking, riding your bike, or doing any other outdoor exercise activity. Without a GPS enabled app, it can be difficult to know exactly how far you have traveled during your workout, and MapMyFitness makes it easy. You even get an idea of how many calories you're burning during each session. Plus after a workout it's easy to share your route and information with friends on Social Networks, which is a great way to stay motivated and motivate others. If you're on Facebook you should share your efforts with us! We're always excited to see all the hard work our members are investing in their health!
Here at Miami Fitness Club, we have plenty of tools to help you get in shape, too, like our state of the art Keiser exercise equipment and a ton of group fitness classes included in your membership. If you're not a member but you're looking for a family friendly gym in Cincinnati, contact us today! We'd love to meet you and show you around the Miami Athletic Club and Wellness Center.