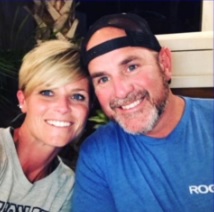 MAC Member Spotlight - Liz & Aaron
MAC November Spotlight
Liz and Aaron D.
Tell us a little about yourself:
Our names are Aaron and Liz Daniels. We have been married for 16 crazy good years! We have 4 children, Esther 13, Corbin 11, Ruby 9 and Harlan 7 .. Aaron is a Lineman at Duke Energy and all around handyman. I am a master chef, professional cleaner, laundry folder, multi-tasker, chauffeur, referee…. Lol jk, I am a stay at home mom.
What let you to join MAC?
Aaron and I are both from the area and were both always athletic in high school. We graduated and got married and fell into jobs, life, and unhealthy eating habits. Shortly after celebrating our third anniversary, we had our first child. We decided that it was time to get into shape! We started working out at home, doing videos and using what little bit of equipment we had. We got into shape and I got back down to pre-baby weight! We repeated this process inconsistently 3 more times, until after after our 4th baby… we needed a change! Working out at 9:30 at night after the kids were in bed, or with kids crawling under feet just wasn't working anymore. We'd find an excuse not to workout and we'd just hit a plateau. We joined MAC almost 7 years ago! We needed a place with lots of equipment options and somewhere where the kids could hang out while we worked out! Aaron started coming in at 5 in the morning and quickly found a solid group of people to help motivate him.
Personal Success Story
Aaron at his heaviest was 265lbs. His weight fluctuated a lot in the years we were working out at home. Once he started at MAC, he has stayed consistent in working out and eating better and lost about 45lbs. In 2016, Aaron had 2 pretty major injuries, which set him back some. In January, he tore his ACL and meniscus. He recovered from that, but shortly after he tore his bicep completely off. Being still and having to sit around is not Aaron's thing. So, as soon as he could, he was back in the gym doing something! He has made a full recovery and is back at it most every evening.
I've never struggled with my weight. So, I don't have a great weight loss story. But, I have had 4 children, and with each pregnancy, I gained around 35-45 lbs. That 4 times is a lot of weight and in a very short amount of time! So, I do understand what it feels like to look at yourself and not like what you see and struggle to get back to being comfortable in your favorite pair of jeans.
When we joined MAC, I mainly did a lot of cardio. I was too self conscious to get out there on the weights. A couple of years ago, I started lifting weights more and I've gained weight - the good kind, the muscle kind! I started working out to lose the baby weight. I keep working out to stay healthy and to show my girls that you can have babies and get back into shape and feel good about yourself.
Working out isn't a short term goal. It is a lifelong commitment. It takes time and there is no quick fix or magical pill. You just have to keep pushing yourself and set new goals. When you plateau, do something different and don't quit. Keep it exciting, change it up, find what works for you! God gave you one body. Take care of it the best of your ability and it'll take care of you.