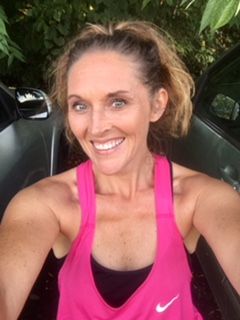 MAC Member Spotlight - Tiffany J.
I was born in Cincinnati, Ohio and have moved a few times in my life. My fitness journey started when I was young. It was through my Dad that I discovered my love of running, which continued on through High School track. I kept in shape as best I could in college and have ran off and on most of my life. In 1999, I married my husband. We have two children: Logan (13) and Duran (10).
We lived in Dayton, OH for 10 years before moving to San Antonio, TX in November 2009, where I joined the YMCA. I loved the YMCA in Texas because I got to experience all kinds of classes that truly became a huge part of my life with my boys. I was on a poster which was up at all YMCA's in San Antonio, Texas and my boys thought I was famous. Making my boys proud was the best feeling ever!
We moved to the Milford area in June 2016. I discovered MAC through the Milford Neighborhood Facebook page and started coming at the end of November in 2016. It was a lot different than what I was used to, but I was impressed. I started attending all the classes to figure out which one I liked and to get to know all the different instructors. There were a variety of classes, just different than I was used to doing. I've been at MAC a little over a year now and am getting to know people who have made me feel so welcome.
Kathy, MAC Group Exercise Director, was very helpful in telling me about the classes and the gym. In fact, Kathy's Monday night class was the first class I attended -- which was great! I continued to come to classes and got to know the instructors and other members in class. The first time I took Maggie's class, I knew I liked her style. She will call you out and make sure you are doing the moves right! Heather is sweet and loud, but motivating too, and she also doesn't let you give up. I try to make it an effort if I see new people in class to make them feel comfortable and tell them about the class and help them get set up. I love to motivate others to push harder and not give up! I truly appreciate everyone I have met thus far at MAC and still getting to know.
My favorite class is Circuit Training on Thursday nights at 6pm and Wednesdays at noon "Power Fit" taught by Nick or Lecia (no they didn't pay me to say that). Those classes are a style of workouts I love and remind me of classes I miss from Texas. I even got to climb the rope in Lecia's class, which was awesome! I like to give it my best in class and I'm not a slacker by any means unless I'm hurt. I'm my own worst competitor and enjoy pushing myself beyond what I think I can do. I tend to hit just classes usually, but my goal for 2018 is to have a variety of routines hitting the gym whenever I can.
My advice to members or people thinking about joining MAC is to try a variety of classes. You cannot go to just one class to make a decision. You have to try out few and find out which one works best for you. A fitness journey or lifestyle change isn't supposed to be easy. Every class is different and each instructor has their own style of teaching.
Fitness is a life journey that requires support from one another in order to improve our fitness goals and eating habits. I look forward to 2018, meeting new people at the MAC and achieving some goals too!