Zumba: The Perfect Combination of Fitness and Fun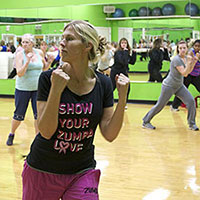 Zumba is the innovative and energetic dance fitness program that has gained worldwide popularity and inspired millions of fans to embody the mantra, "Ditch the Workout and Join the Party!" Founded in 2001, by Beto Perez, Zumba combines Latin based dance moves and internationally inspired rhythms into a fun total body workout.
Whether you are new to the Zumba phenomenon or one of the millions of devoted fans around the world, Zumba is an inspiring workout that is dedicated to helping you change your body and your world.
Join the Party!
From the moment you join your first Zumba class, it doesn't take long to realize that your normal fitness routine has just been transformed into something amazing. In her 2012 appearance on the Martha Stewart Show, self-proclaimed Zumba activist, Kass Martin, describes Zumba as, "a workout that you really look forward to doing because it changes the idea of exercise, it's fun." Zumba is often praised for its unique combination of entertainment and fitness resulting in a well-crafted workout routine with dance party style.
What a Workout!
Whether your goal is weight loss, strengthening your core, or increasing your flexibility, there is now scientific evidence that shows what millions of Zumba instructors and fans
already know- Zumba actually works! In 2012, the American Council on Exercise commissioned a study where researchers set out to determine the average exercise intensity and energy expenditure during a typical Zumba class. The study found that individuals participating in a single Zumba class burned an average of 369 calories and had an average heart rate of 154 beats per minute. Researcher Mary Luettgen, M.S., attributes Zumba's effectiveness as a workout to its interval like nature, ranging between high and low intensity, causing individuals to burn more calories as compared to a more steady exercise like jogging.
Save the World!
In the last several years, Zumba has launched a global initiative to get the world moving for charity. The Zumba Love program has hosted over nine thousand charity events and raised over 3 million dollars all over the world. According to Zumba.com, "The mission of Zumba Love is to foster charitable initiatives that raise funds and awareness for important global health causes, and to celebrate the joy of giving through dance, fitness, friendship and love." Currently, Zumba has partnered with several leading charitable organizations including the Susan G. Komen for the Cure Party in Pink charity campaign, the American Heart Association to promote cardiac health, the fight to cure ALS with MDA Augie's Quest, the nonprofit Bayou Clinic, and the Michael J. Fox Foundation.
The Miami Athletic Club and Wellness Center is proud to offer a full range of group fitness instruction including Zumba classes ranging from Beginner to Advanced. Contact us today for more information about Zumba. You can check out the current Group Fitness Classes schedule.