Reform Your Body with Pilates Reformers
Pilates Reformers is an exceptional form of exercise that holds a broad and lasting appeal. Professional athletes do it to improve their game, increase flexibility, and stay strong. Pilates Reformers can challenge both men and women of ANY fitness level, yet is also safe for seniors.
The promise of founder Joseph Pilates has proven true for today's Pilates enthusiasts: "You'll feel better in 10 sessions, look better in 20 and have a new body in 30."
A Reformer is a resistance-based piece of equipment with a moving carriage that slides along a metal frame. Springs and ropes provide assistance and resistance, and exercises are performed lying down, sitting, kneeling or standing. Many Pilates enthusiasts prefer working on Reformers, which offer more resistance and support than a mat.
It teaches body awareness, good posture and easy, graceful movement. Pilates Reformers improves flexibility, agility and economy of motion. It can even help alleviate back pain. Develops a strong "core," or center of the body, is the main focus of Pilates Reformers. The core consists of the deep abdominal muscles, and the muscles closest to the spine. The exercises develop core control, integrating the trunk, pelvis and shoulder girdle.
Builds strength without "bulking up"
Increases flexibility and agility
Develops optimal core control
Creates flat abdominals, slender thighs and a strong back
Is a refreshing mind-body workout
Is challenging yet safe
Professional dancers and athletes have known the benefits of Pilates Reformers for decades. Top athletes use it for strength, flexibility, and injury prevention. Hollywood celebrities and supermodels use it to maintain beautiful physiques. Come in and see us to learn more about Pilates Reformers and how you can benefit from this popular and effective technique.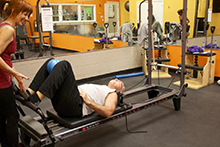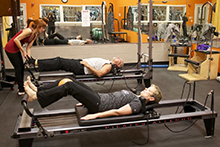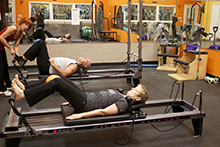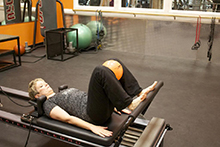 Initial Consultation Package
If you do not have any experience with Pilates or Pilates Reformers, an Initial Consultation Package (1 assessment, 2 privates sessions) is recommended. The cost for this Consultation Package is $165, The first session will consist of a fitness assessment to evaluate your fitness level, strength and weaknesses. The second and third session will instruct you on the basics of Pilates, terminology, form and precision.
After the Initial Consultation Series, you have the option of continuing your one-on-one training or you may participate with friends/members who may want more of a group setting.
Pilates Reformers fee's are as follows:
Single prepaid session (one participant) $55 or Duet (two participants) $40 each.
These prices are based on a prepaid package of $330. Depending on the number of participants in your session, the applicable fee will then be deducted from your package of $330.
For more information or to schedule your assessment, please contact Lu-Etta Smith CFT, either by phone (513)460-1743 or email: luettasmithCFT@yahoo.com.