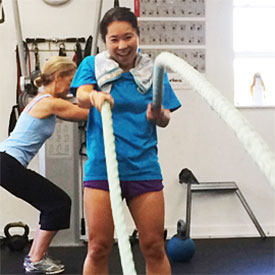 A 45 minute, Personal Trainer -led, high intensity interval training class utilizing cardio equipment and weight circuits. Power Fit is designed to target all muscle groups and improve your cardiovascular endurance!
This class is included with Group Exercise membership. Drop in and join us!
Instructor for this class
Nick V., Certified Personal Trainer
Nick has always led an active lifestyle, having grown up playing a number of sports, with lacrosse as his primary focus. After graduating, Nick missed the healthy competitive environment found on the field, and when searching for something that would involve a similar passion, eventually discovered the world of strength and conditioning. Since 2013, Nick has enjoyed a full time career in personal training. His goal is to share his passion with others, while helping them pursue healthier lifestyles. Nick went to the University of Cincinnati, is AFAA certified, and is currently working on various other certifications. He knows that for some people, fitness can appear daunting - with this in mind, he knows how to motivate and enthusiastically urge his clients to successful results. Nick believes that everything is easier when you are stronger - not just physically, but mentally as well, and believes that true strength can come from focus and determination.
View all classes »