Body Shock Junior (for ages 10-14)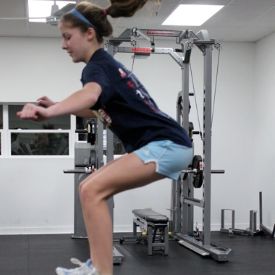 Teens ages 10-14 or grades 6-8 learn basic weight training skills, proper form, safety and technique. Lead by a qualified, experienced Coach & Certified Trainer. Body Shock Junior is a session based class, limited space available and requires pre-registration. For more information call, 513.831.0006 or register online here.
*Class held at CrossFit Continuity.
Instructor for this class
Josh, Certified Personal Trainer
4 Year - Milford High School Football Player ('14)
Studied Exercise Physiology at Ohio University
Certified Personal Trainer/Group Exercise Instructor & Online Health Coach/Trainer
3 Years' Experience with Personal Training/Group Exercise Instruction:
Personal training expertise in resistance, endurance, and performance training
Group training expertise in abs/glutes, kickboxing, and full body toning boot camps
Training experience with young kids, middle school/high school athletes, middle age men/women, and individuals that possess pre-existing health conditions/injuries that inhibit them from performing certain styles of exercise
Can develop customized plans that will be unique to each client to meet their exercise goals (Fat Loss, Meal Plan Recommendations, Workout Plans, etc.)
24/7 access to myself in order to make sure clients stay on track/pace with their goals
Message to Potential Clients:
I believe you have to give this industry the passion that's necessary and I do this because of the love I have for helping other people. This industry has already introduced me to many amazing connections and I can't wait to build even more special relationships. I have made it my life's purpose to impact others through fitness and by staying true to myself I hope to be a positive influence to anyone who crosses my path.
Favorite Quote:
"The poorest man is not the one without a penny; it's the one without a dream." – Giavanni Ruffin
View all classes »