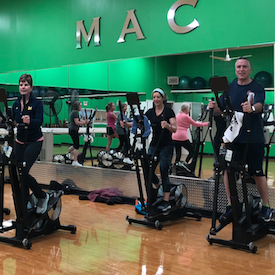 A 30 minute low impact, cardiovascular workout on the Keiser M5 Strider. This will include varied intervals of sprints and hill climbs, followed by active recovery. During class participants will utilize three different hand positions as well as focus on different muscle groups. This class will be limited to the first ten people in attendance. Pick up your class ticket at the front desk to reserve your spot. Striders will be given out on a first come, first serve basis.
Fun, new exciting class addition! Try it out!
Instructors for this class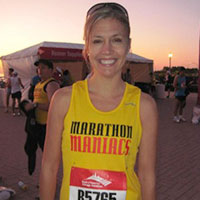 Lecia
Lecia has been teaching group fitness classes since 1988! She is passionate about helping others live a healthy lifestyle and reaping the benefits. She has always enjoyed physical fitness and loves sharing her passion by motivating others. She is a certified Spinning, strength and bootcamp instructor. She enjoys yoga, reading and also runs a business where she helps busy people get healthy dinners on the table. Lecia is an avid runner, having completed 40 marathons in the last 6 years and several ultra marathons. Lecia loves MAC quite simply, because of the people. Initially she joined MAC back in 1996 when she moved to Loveland and have enjoyed the lifelong friendships she has made there.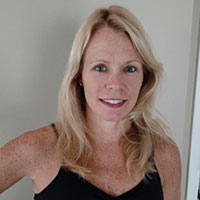 Jennifer G
Jennifer has taught group fitness classes since 1990. She holds an AFAA National Group Fitness Certification and current CPR certification. In addition, Jennifer has a Bachelor's Degree in Education with an emphasis in Coaching Effectiveness and a Master's Degree in Reading instruction and literacy. As you can see, she loves teaching and working with students of all ages in all areas of life. She has taught at Miami Athletic Club since 2003. She teaches Step, Spinning, Club Boxing, Cardio Kickboxing, Strength Training, Boot Camp, and Mat Pilates classes. Her focus is to teach and encourage every student to cross train. She feels that it is extremely important to vary your workout to keep your body healthy and in ultimate condition.
View all classes »