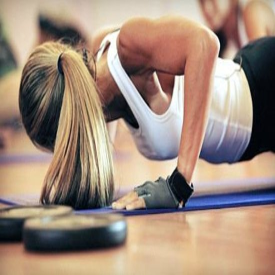 Yoga Bootcamp is a 45minute yoga practice suitable for all levels. It is a powerful, energetic, playful flowing class. There will be a emphasis on moving with breath. You will torch calories and strengthen and tone your body. Your mind will clear and you will leave with a feeling of accomplishment.
Instructor for this class
Jill G
Jill has been teaching yoga since 2009. She has trained with some of the most prominent yoga instructors in the world such as Baron Baptiste, Seane Corn, and Rodney Yee. She fell in love with yoga after she injured herself running. Jill loves a physical challenge and she will challenge you in every practice. Jill tries to encourage a healthy active lifestyle for her 2 girls. Eating right and sweating once a day is Jill's mantra. When not teaching yoga Jill enjoys her dogs and reading.
View all classes »