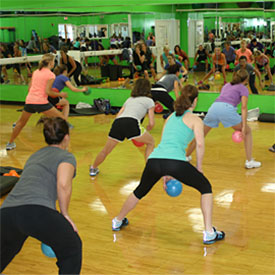 A 45 minute moderate to high intensity cardio class that includes cardio intervals that will help build endurance and reduce fat. Participants will burn calories and strengthen your core.
Instructor for this class
Penny
Penny has been an instructor at MAC since 2012. She first came to MAC after moving to Loveland and having 2 babies in 21 months. Her fitness goals completely changed after having kids and she found MAC to be the perfect facility for her and her new challenges. The group classes were so welcoming and positive that it made coming to the work for Penny fun, exciting, and effective! Penny is certified in Zumba, Zumba Toning, AEA (Water Fitness) and AFFA (Group Fitness). Since coming to MAC, she has made some amazing friends in her classes and she look forward to seeing them each week.
View all classes »